Vilnius transport E-tickets and service booking system, and self-service system for customers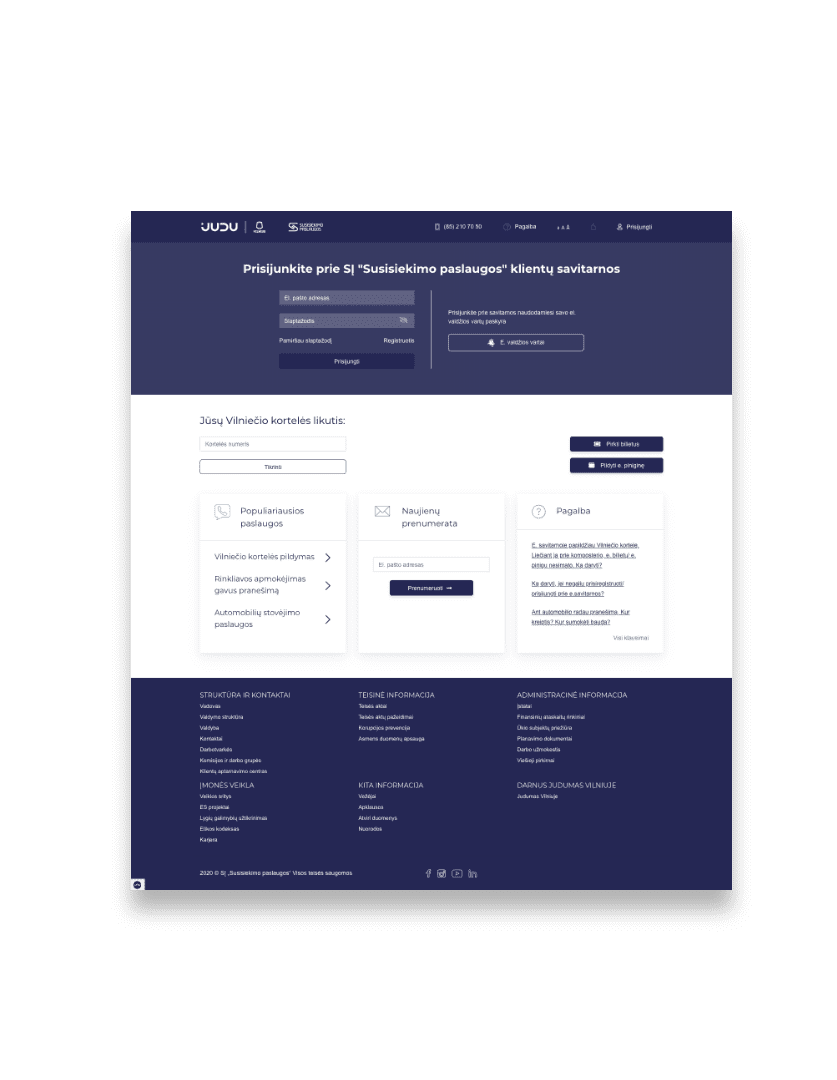 About project
Vilnius electronic ticket ordering system and self-service system SĮ 'Susisiekimo paslaugos' for customers, where users can replenish their Vilnius citizen card and order electronic services
Electronic services created during the project: automated all service order processes from order formation to payment, order confirmation and provision of service.
Online booking of short- and long-term electronic tickets;
E-wallet – replenishment of Vilnius citizen card with electronic money;
Ordering long-term car parking in the toll area;
Payment of toll upon receipt of notification;
Ordering and issuing permits to park a car in a residential area;
Ordering and issuing permits to park a car to owners of commercial premises;
Ordering and issuing permits to park an electric car in a toll area;
The main functions of SystemSight Commerce e-commerce system
Catalogue of electronic services and configuration of the rules for ordering;
Catalogue of electronic tickets:
System of discounts;
Limits of goods and services being ordered;
Order creation (basket);
Payments (VPO, Neopay);
Payment templates;
Order of service with SIRIP authentication;
Forms for the order of service for providing additional data;
Verification of personal data in the order process by importing additional data from external systems;
Order statuses;
Activation of booked e-tickets and services by data transfer to external information systems through integration interfaces;
Service extensions and automatic reminders about the impending expiry of the service;
E-notifications to customers.
Customer self-service system functions
User registration with confirmation of telephone number and e-mail;
SIRIP authentication;
Login with e-mail address and password, password reminder and change function;
Personal profile and editing of personal data;
Status of ordered services and order history;
Checking balances on Vilnius citizen card (electronic tickets, e-wallet);
History of the use of electronic tickets;
History of payments;
Invoices;
Information notifications (messages);
Customer support (FAQ);
Real-time chat system (CAP);
Customer surveys.
Integration with external and customer internal information systems through web services
SIRIP identification service;
Information system of the car and driver's licences registered with REGITRA;
Population Register of the State Enterprise Centre of Registers;
Register of Legal Entities of the State Enterprise Centre of Registers;
Neopay electronic payment system;
VPO electronic payment system;
Financial management and accounting information system (Navision);
SĮ 'Susisiekimo paslaugos' electronic ticket management system Winado;
SĮ 'Susisiekimo paslaugos' database of issue of permits and car parking services PFDB;
MTIS – m. Transport information system;
Livechat – real-time chat system.
The following services have been provided in the course of the project: The solution architecture, functional and technical documentation have been prepared, the website user interface has been programmed, graphic design has been developed, the adaptive user interface and the self-service website have been installed been programmed, the e-commerce system SystemSight commerce has been installed, its components and functions have been programmed, integrations with external and internal customer information systems have been implemented, testing has been performed, educational material has been prepared, training for the staff of the institution has been arranged, and the solution has been installed in the technical infrastructure of the customer. Solution development and aftersales maintenance services have been provided.
Year

2018 - 2020

Client

SĮ "Susisiekimo Paslaugos"

area

Vilniaus transportas

E. bilietas

Savitarna

Elektroninės paslaugos